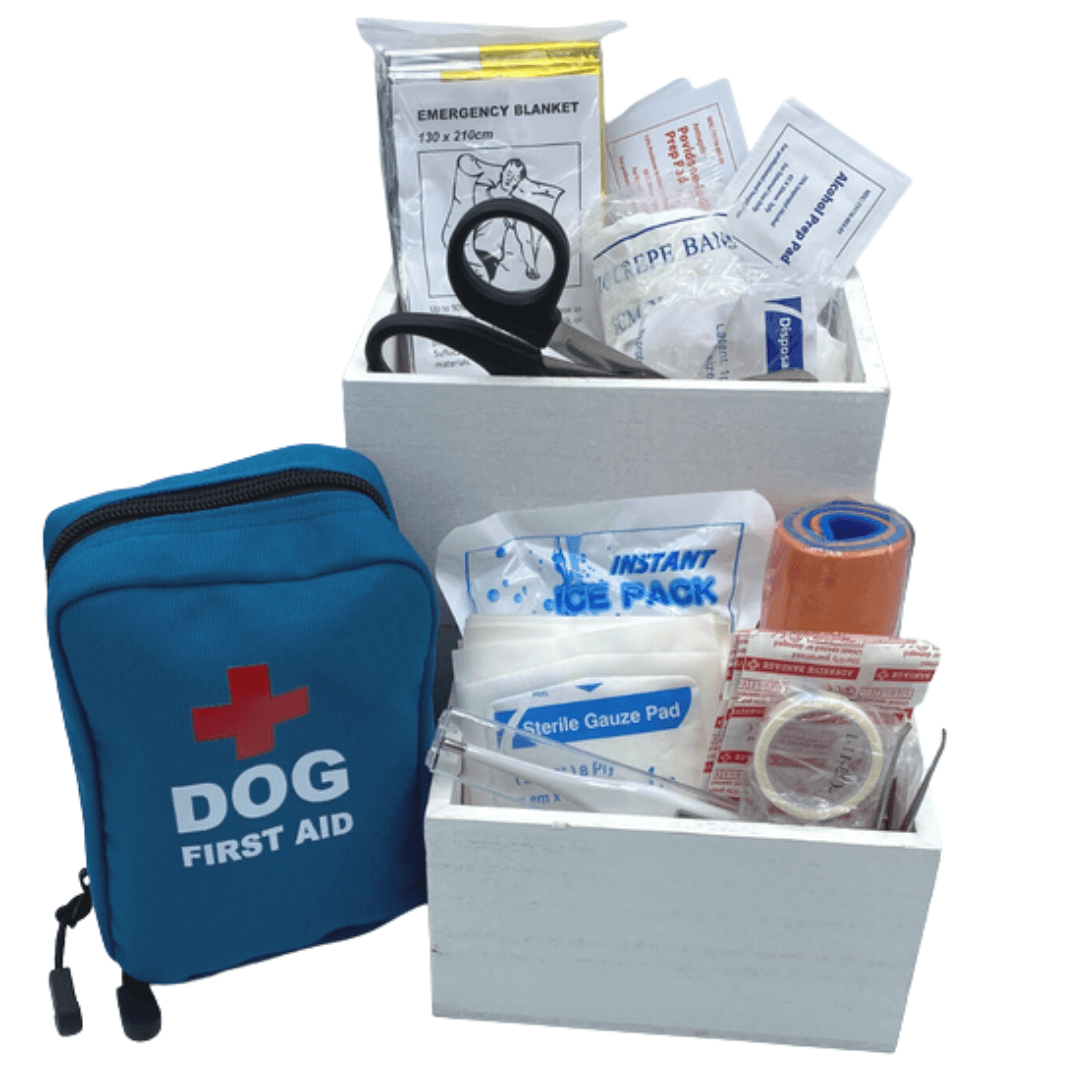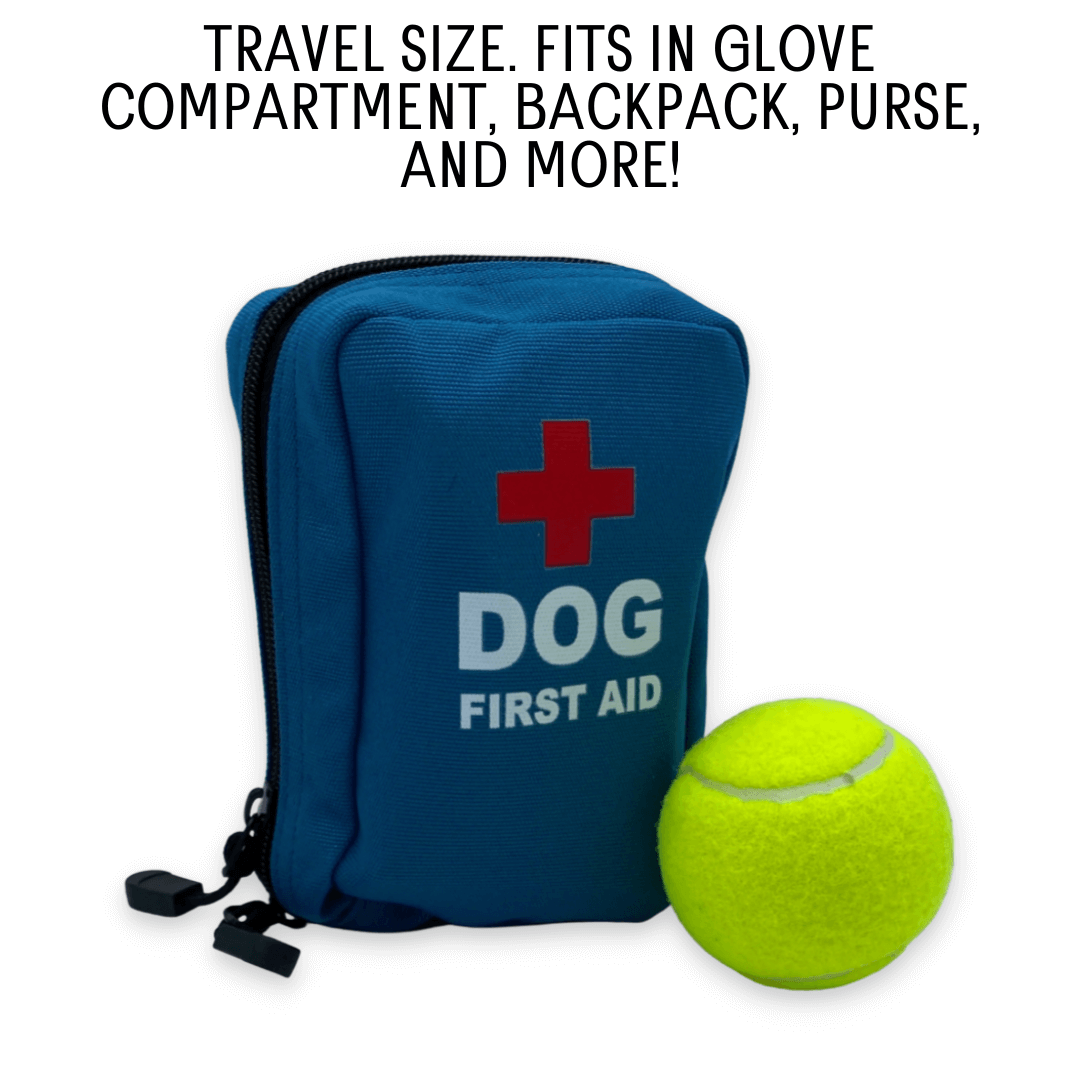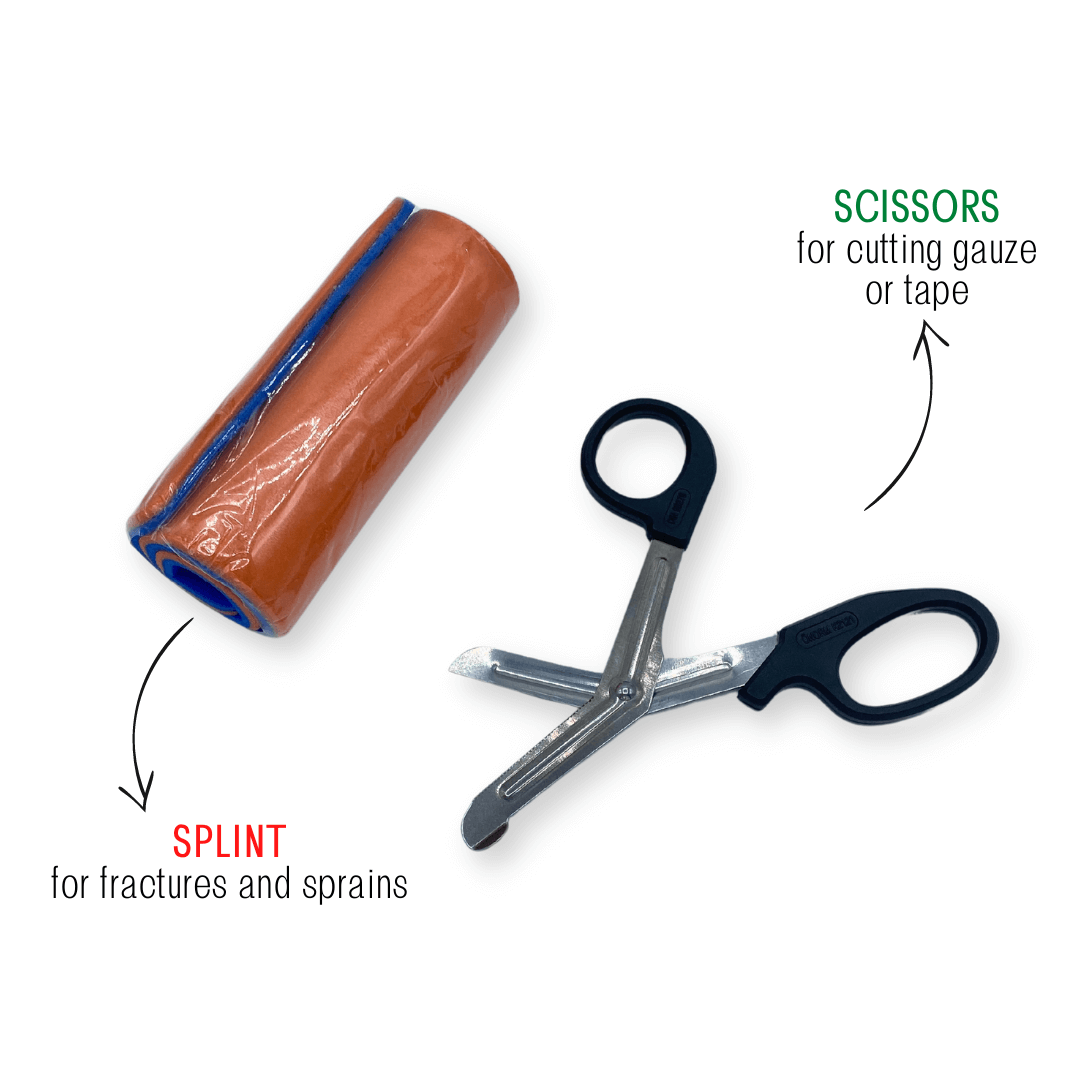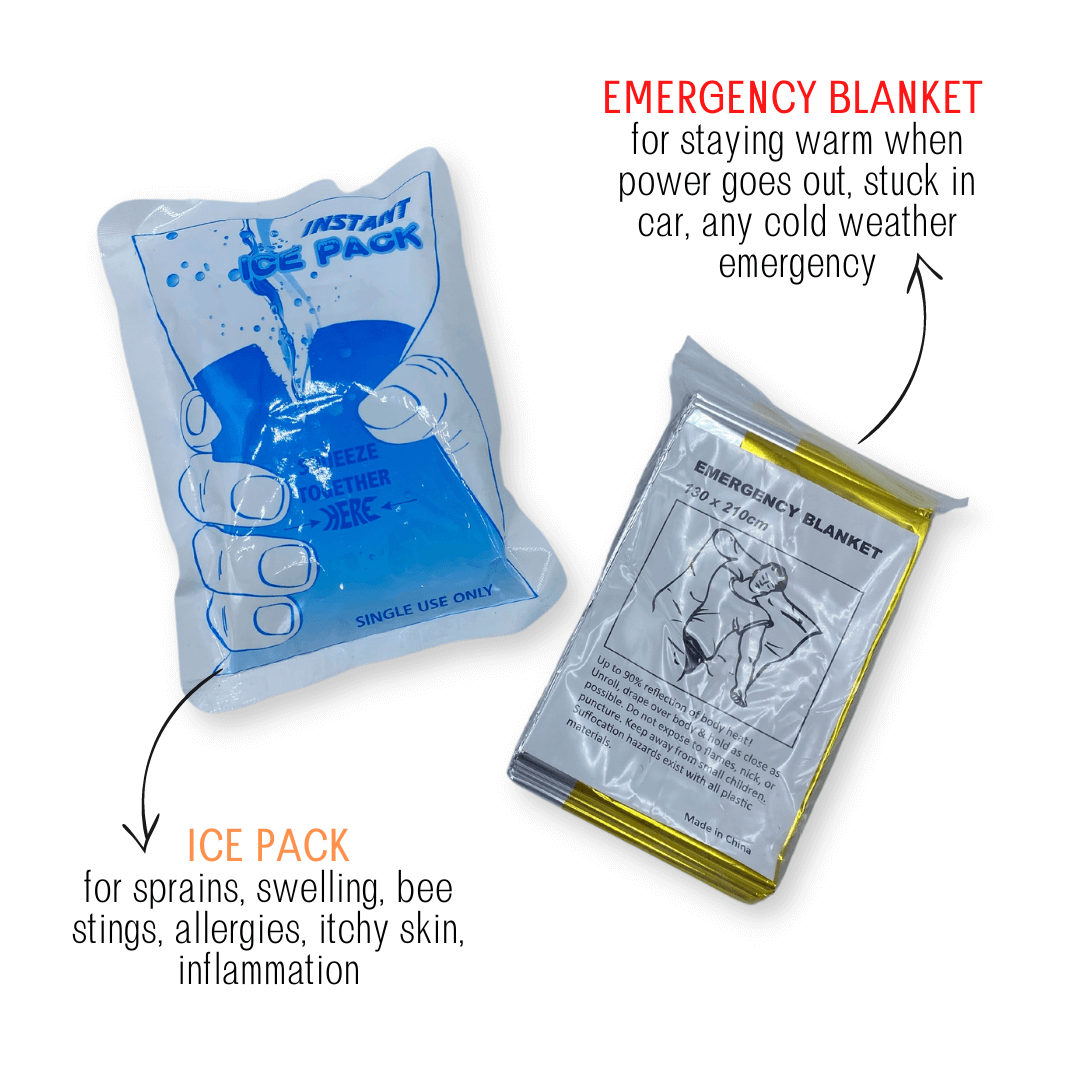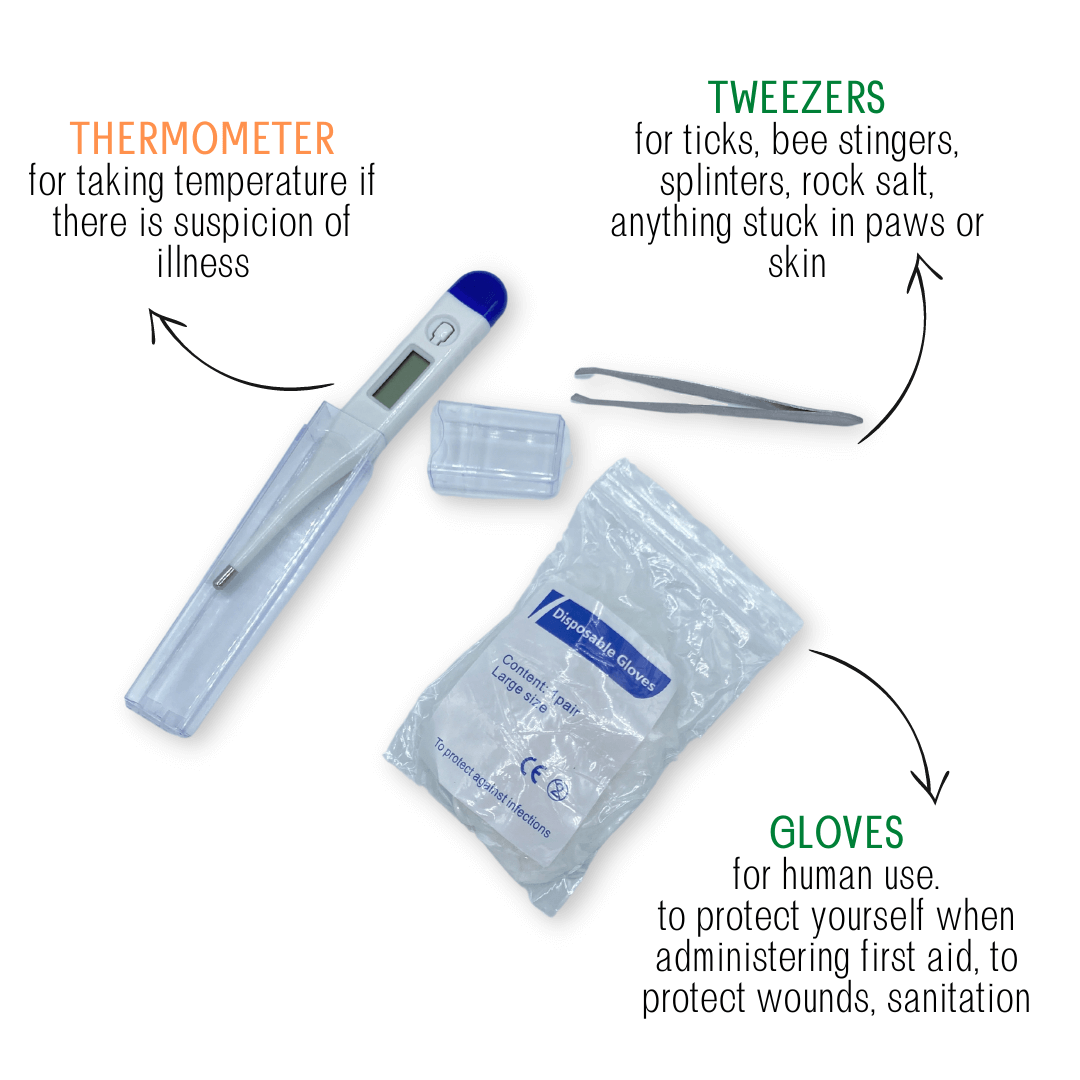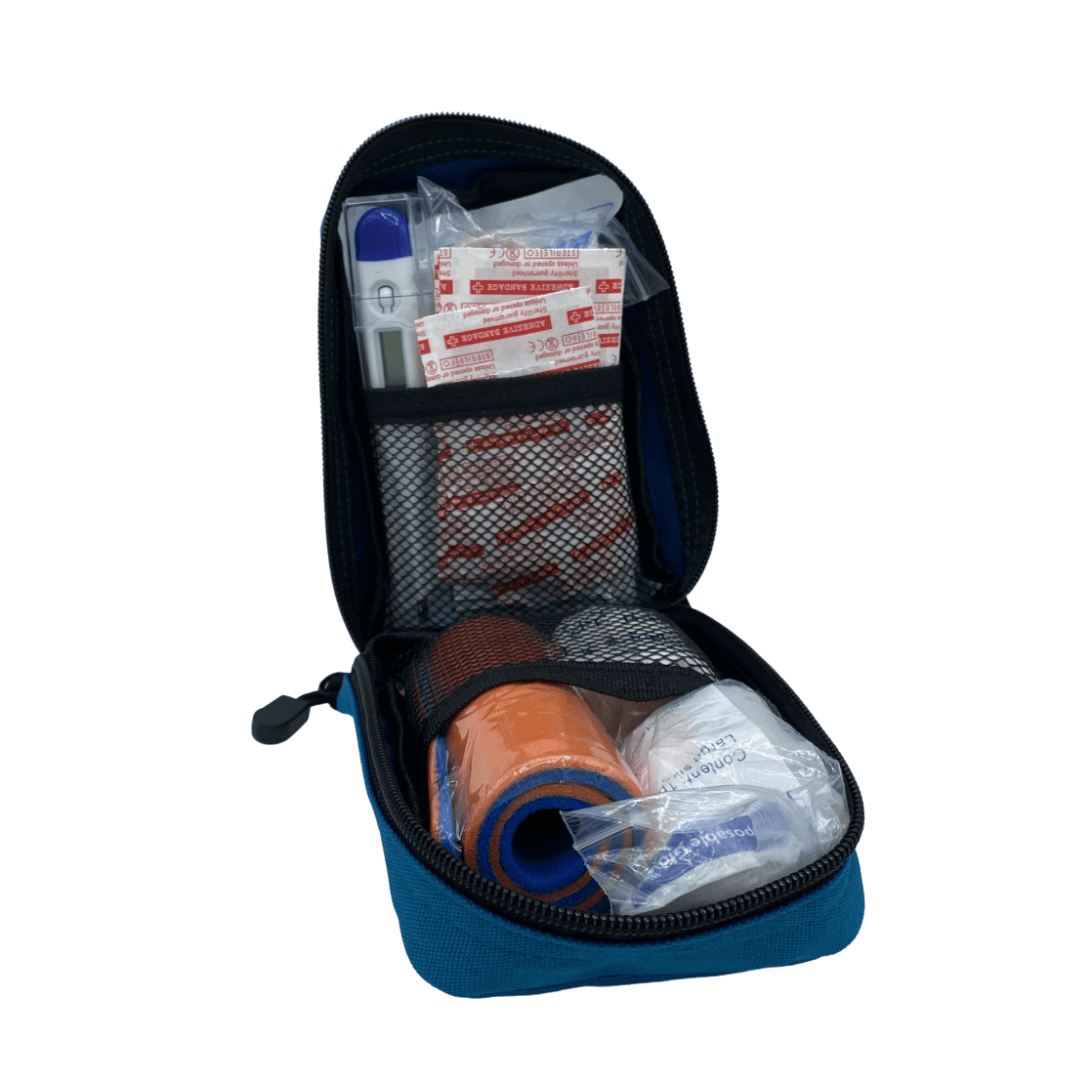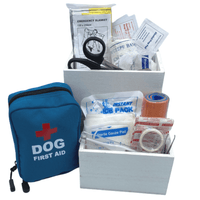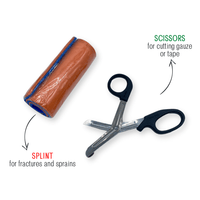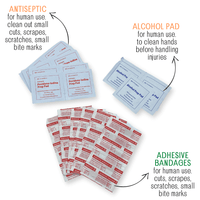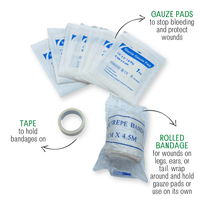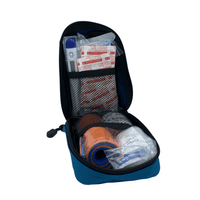 Compact Travel Dog First Aid Kit
You never want to be caught without a first aid kit when it's needed most. Its compact travel size makes it easy to bring with you but still has everything you need to keep you and your dog safe. It's lightweight and has over 10 items. All the items fit perfectly in the kit and are easy to access. It has first aid supplies for both you and your dog for small injuries to larger emergencies, making it very multipurpose.
• Scissors - cutting gauze or tape
• Splint - fractures and sprains
• Antiseptic - HUMAN USE. clean small scrapes, bites, cuts, scratches
• Alcohol Pads - HUMAN USE. sanitize hands before handling wounds
• Self Adhesive Bandages - HUMAN USE. for small cuts, scrapes, scratches, bites
• Gauze Pads - wounds and bleeding
• Gauze Roll - wounds, bleeding, holding wound pads in place
• Tape - hold gauze and splint in place
• Ice Pack - sprains, swelling, bee stings, inflammation
• Emergency Blanket - cold weather emergencies
• Thermometer - taking temperature if suspicious of illness
• Tweezers - remove ticks, stingers, splinters, and more
• Gloves - HUMAN USE. to protect yourself and keep things sanitary
Always ask a vet for advise before administering first aid on your pet. Do not use first aid items without guidance from a vet. These items are not meant to replace professional medical attention.
All shipping around the U.S is FREE!
Your First Aid Kit will ship next day and should arrive within 4-7 business days. USPS delivery varies.
If you ordered clothing as well, these items ship separately and shipping times vary.
Due to the nature of the item and for the protection of sterile items, First Aid Kits are NOT returnable or refundable.
Always consult with a vet before performing any first aid on your pet. If you have any questions about how to administer first aid to your pet, contact your vet. If you are unsure of how to use a product in your first aid kit, do not use it. Incorrect use of first aid supplies can cause injury. Use caution when using any first aid supplies and keep out of reach from any pets and children.
Ice pack - for bumps and bruises
Thermometer - to take temperature
Alcohol wipes - to sterilize your hands before handling the dog
Bandages - for small cuts, bites, or scrapes
Antiseptic wipes - to clean around the wound
Emergency blanket - hypothermia or cold weather
Splint - to stabilize fractured limbs
Gauze roll and pads - to control bleeding
Tape - to hold gauze or splint in place
Round edge scissors - to cut tape or gauze off roll or off dog
Tweezers - for ticks or splinters
Gloves - for sanitation
Yes! We only included items that can be easily used. We will even send you a worksheet via email that teaches you how to use each product, what to use them for, and some safety information.
Yes! We will send you a worksheet that gives you all the information you need on how to use the items in the kit so you can learn all you need to know before using it.
Emergencies and accidents happen all the time and it's our job to be prepared for our dogs when one occurs. People have the false idea that first aid kits are just for extreme emergencies, when in reality they can be used for small things such as getting a tick or a scraped paw.
This kit is great for non-emergencies and emergencies! The great thing about having a first aid kit is that it's prepared for all of life's moments. The tweezers are great for getting a tick or splinter out, while the emergency blanket is great for power outages or being stuck in the car during a snow storm. The possibilities are endless on what we need to be prepared for - big or small.
Good to have
So happy to have this first aid kit for my new puppy. I feel safe using these products on her if anything were to ever happen. Got one for myself and for each family member with a dog. Gives you great peace of mind knowing you have it just in case!