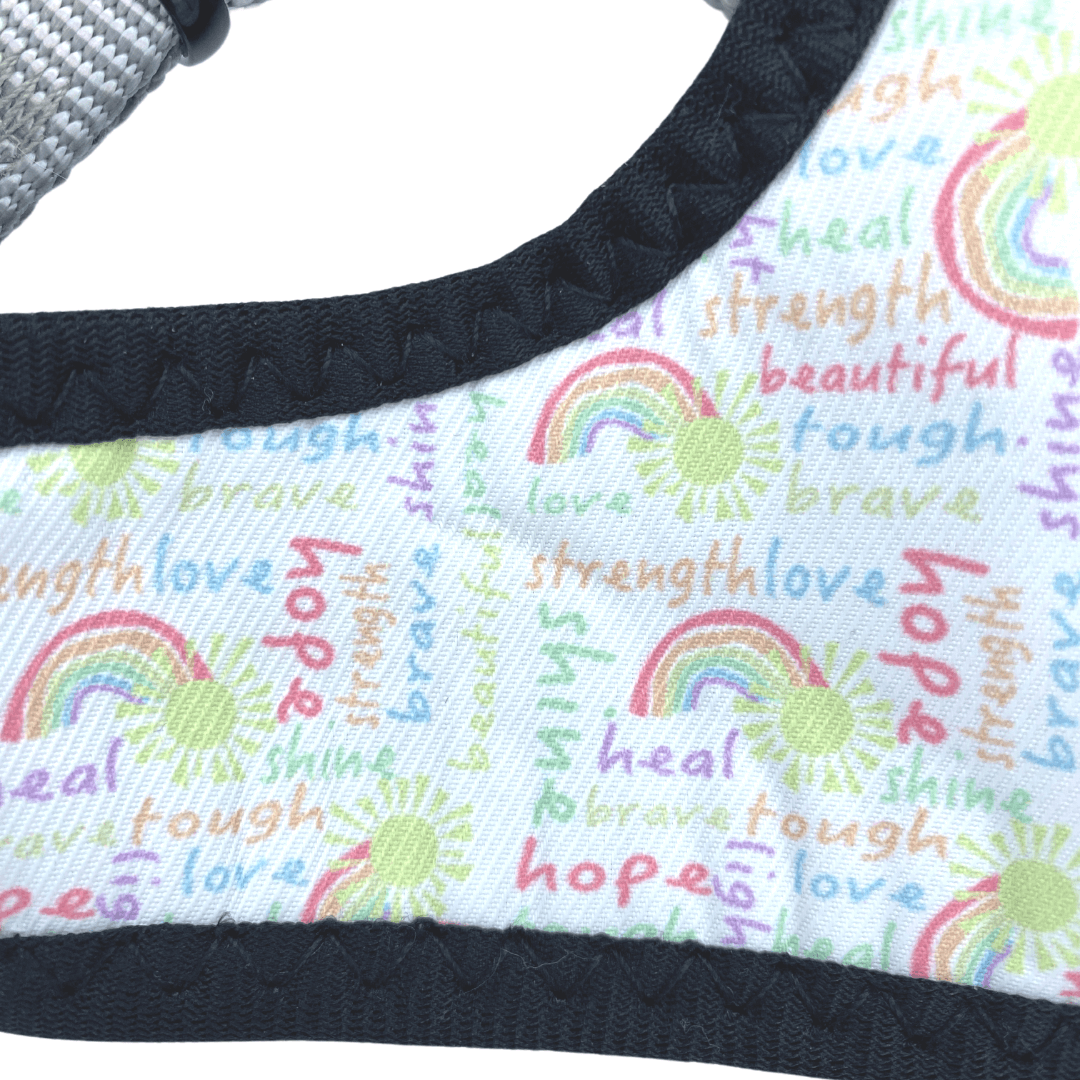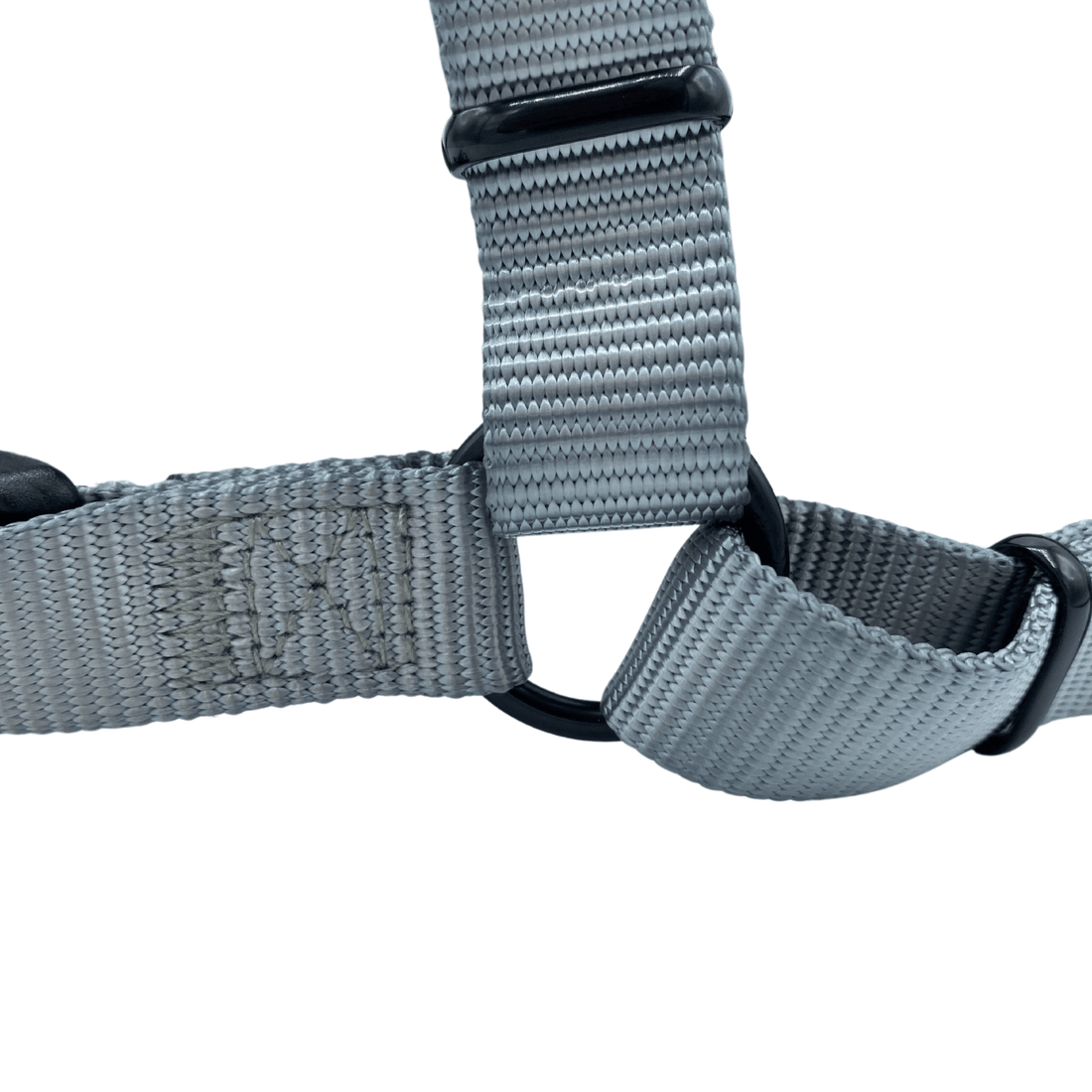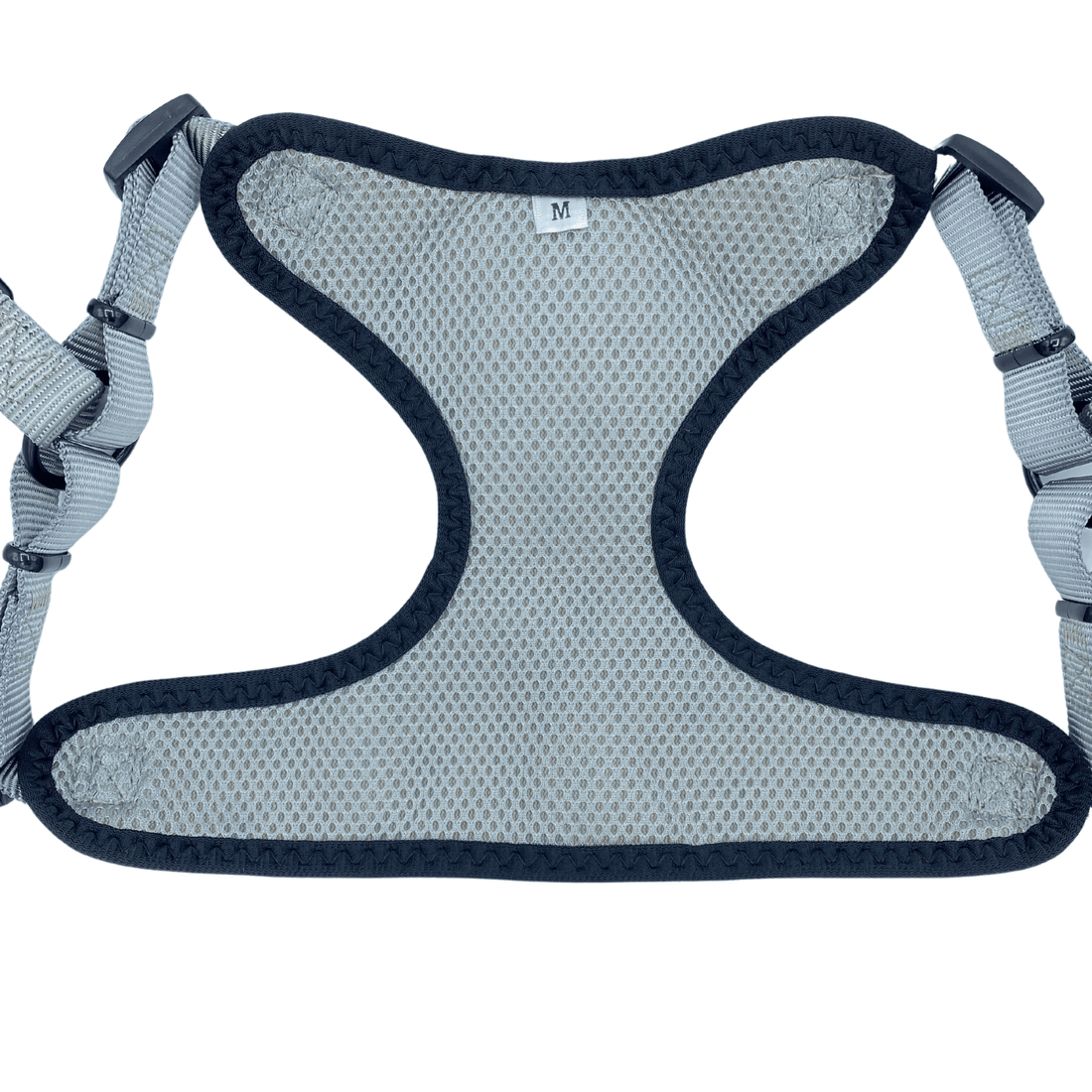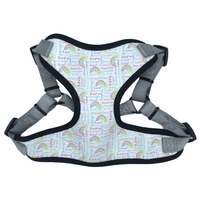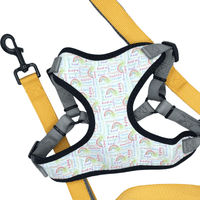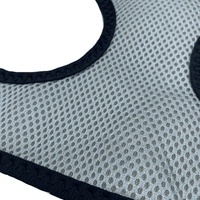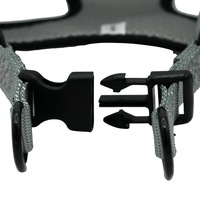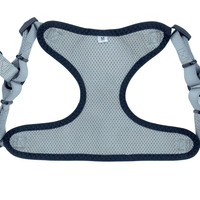 Positivity Perfect Fit Dog Harness
Perfect Fit for Your Dog - Yup, Yours!
With 4 adjustable straps, this harness is sure to fit your dog just right. Give your dog more room in the chest, belly, or both. The curved design and breathable mesh fabric ensures maximum comfort for your dog. Sitting low on your dog's chest, this harness helps avoid the dangerous neck contact and injury that collars and other harnesses can cause. 
The Pattern
A pattern filled with positivity making it worthy of the name. The rainbow assortment of words and images give this harness a bright and inspirational design. 

The Details
• High Quality Fabric - Comfortable and durable
• 4 Adjustable Straps - Adjust where needed to fit your dog best
• Low Sitting Design - To avoid dangerous neck injuries
• Easy On/Off - One buckle for 4 straps makes it easy to put on and take off
• Machine Washable - Holds up to dirt and holds up in the wash
All shipping around the U.S is FREE!
Your harness will ship next day and should arrive within 4-7 business days. USPS delivery varies.
If you ordered clothing as well, these items ship separately and shipping times vary.
All items, unless otherwise specified may be returned, at no extra cost to you, within 14 days of receiving your items. The envelope your harness came in is reusable and you may reseal it for your return.
Clearance items are FINAL SALE and not able to be returned or exchanged.
If you are looking to exchange, the same process applies and we will ship you your new item(s) once we receive your returned ones.
Please email us at contact@shopblula.com to start your return/exchange.
If for some reason the quality of the products does not hold up to your standards we offer a 45 day guarantee on all dog products. This guarantee is limited so please read here to see if you qualify.
Click here for all return, exchange, and guarantee information and restrictions.
Extra Small -
Neck 17.25" - 18.75" / Chest 18" - 19.75"
Fit for small breeds such as Daschunds. NOT fit for small breeds such a Chihuahuas, Teacup Breeds, or any dogs with a skinny build or under 15 pounds.
Small -
Neck 18.5" - 21" / Chest 21.75" - 24"
Fit for small and round breeds such as Pugs. Estimated weight for this size is between 25-35 pounds.
Medium -
Neck 20" - 22.25" / Chest 23.25" - 26.5"
Fit for medium or lean breeds such as Beagles or German Short Haired Pointers. Estimated weight for this size is between 35-45 pounds.
Large -
Neck 22" - 26" / Chest 26.25" - 29.5"
Fit for large breeds such as Golden Doodles. Estimated weight for this size is between 45-55 pounds.
Extra Large -
Neck 24.75" - 30" / Chest 28" - 35"
Fit for large breeds such as Labrador Retrievers. Estimated weight for this size is between 55-75 pounds.
The most accurate way to fit your dog is to measure. Dogs can carry their weight differently, as some are wider than others. Click here for full sizing help and photo references.
The 4 straps are super easy to adjust! You can adjust any of the 4 straps or all of the 4 straps to achieve the perfect fit for your dog. All 4 straps come together with one buckle and make it very easy to take on and off.
Yes! When walking your dog, it is much safer to use a harness than it is to use a collar. This harness avoids contact with the neck, preventing choking or any neck damage when pulling or with sudden movements.
The harness was made to be comfortable for your dog. The low-sitting design avoids the neck to prevent choking and the curved design avoids the arms to prevent any rubbing against the under arms.
Our harnesses are 100% machine washable! That means you can easily throw the harness in with a load of laundry to get any stains out. Hang to dry and it's all set!
LOVE THE BRAND
Got a leash for my yellow lab Sadie and we couldn't be happier with it!
Great quality shipped fast and I love the packaging!! Thank you for the key chain and the dog treat!
The perfect leash
I never thought I'd be picky about the type of leash I have, but here we are! I've tried several different kinds and I wasn't pleased until I found Blula! It's the perfect length, width, and color. It's comfortable to hold and doesn't get tangled. Not to mention it's the first leash my puppy hasn't chewed on and frayed. My neighbor saw it and wanted one for herself! Perfect gift for yourself or pup loving friends.
Great leash
I love this leash so much that I got a second one for my dog. The double handle is great and very helpful in controlling her.
Great product and customer service
The harness was nicely made and a beautiful pattern. Unfortunately the harness did not fit my big girl. I contacted customer service and they were able to give me store credit and a return label to send back the item. Great company to work with!!!